The University of South Alabama Mesonet, or USA Mesonet for short, is a network of 26 weather stations that spans 13 Gulf Coast counties across 3 states. The Mesonet is nationally recognized as evidenced by its participation in the Digital Hurricane Consortium (a group of university researchers engaged in hurricane landfall research) and the National Mesonet Pilot Program (to promote the establishment of a National Mesonet). The Mobile weather forecasting office of the National Weather Service and local TV meteorologists use our data on a daily basis to enhance their forecasting capabilities and to issue us with timely and precise severe weather warnings. Furthermore, our data offer a wealth of opportunity for teaching in a wide variety of topics at the K-12 and university levels.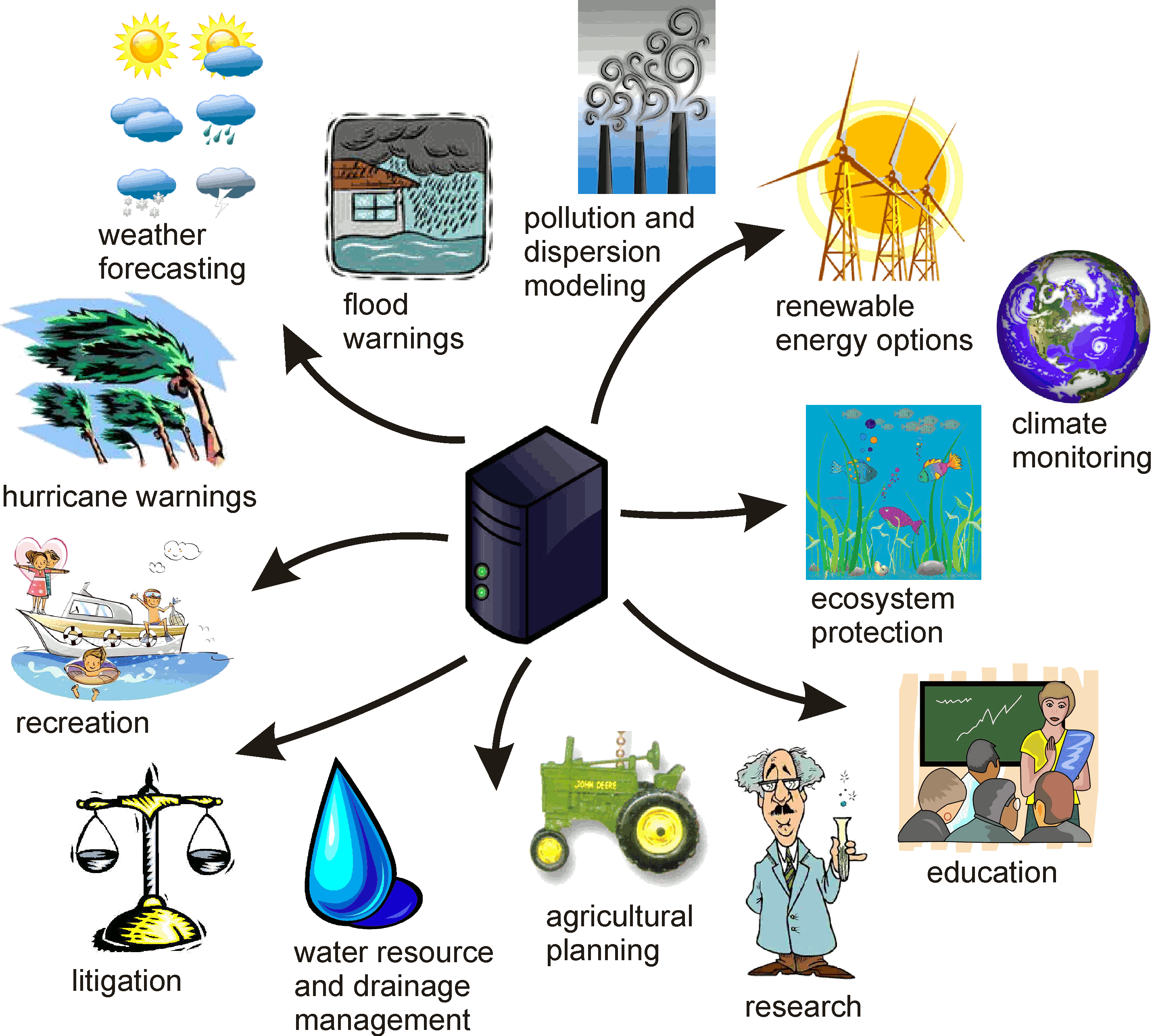 The USA Mesonet provides near real-time weather data (18 parameters) to everyone in our community, every minute of every day. Additionally, all data are archived as they are received. Long term, high quality data archives are crucial for researchers and policy makers to address the many pressing issues that will impact our region and nation in the (near) future. Examples include:
The recent Gulf oil spill has emphasized the need to explore options for renewable energy (solar and wind) in our region. The USA Mesonet measures wind data at 2 and 10 m heights as well as incoming solar radiation.
Many marine organisms are sensitive to factors like temperature change and high turbidity levels resulting from strong winds or rainfall run off. Knowledge of these factors will help us protect our unique ecosystem crucial to tourism and the seafood industry.
Agricultural decision making. Weather data like rainfall and temperature will help farmers decide when to apply pesticide and fertilizer, or when to irrigate.
The only way we will know if global warming or other manifestations of climate change are occurring is to examine long-term, research quality data such as the Mesonet provides.
Water resource management. Water can easily become a scarce resource as recent droughts have illustrated. Careful recording of rainfall data can help us plan for the future to ensure enough water is available to sustain our growing needs.
The above underscores the value of the Mesonet to our community. Real-time and archived data will remain available as long as the Mesonet can remain operational, but we do need help from the community to sustain this resource. Five committed and highly-skilled staff members work long hours to keep the weather stations functioning properly and to ensure an un-interrupted stream of data. The weather stations are visited for maintenance on a regular basis, failing instruments are repaired or replaced as problems occur, and all instruments are sent off annually for calibration. If you are interested in acquiring some of our data or data-derived products , have questions about our data, or would like to learn more about the Mesonet, please contact Dr. Sytske Kimball (skimball@usouthal.edu)

The Mesonet was originally installed using funding from NOAA and the National Science Foundation (NSF) Award No. ATM-0239492. On this website you will find mesonet data and meta-data. You are free to use our data at your own risk and are advised that none of the data on this site has been subjected to any Quality Control measures, but rather is in its raw state as collected from the instruments. Should this data be used in a publication or presentation, acknowledgment is to be given to the funding agency, National Oceanic and Atmospheric Administration (NOAA), and the University of South Alabama Mesonet.